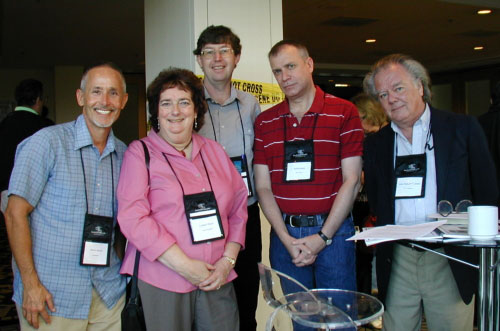 The 2010 Bouchercon (World Mystery Convention) took place in San Francisco, where Steven appeared on a panel with fellow Ancient World mystery authors Lindsey Davis, Gary Corby (the tall Aussie), and John Maddox Roberts (at right). In the red shirt is our moderator and Steven's longtime editor, Keith Kahla of St. Martin's Press. Photo by Ginny Lindzey.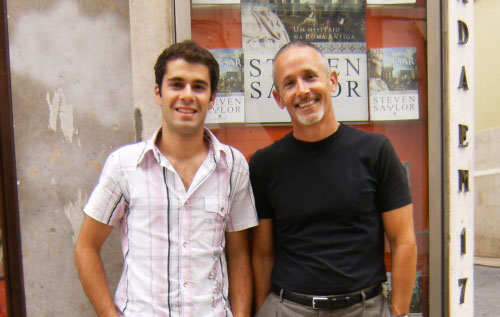 In 2008 Steven went to Lisbon to speak at the International Conference on the Ancient Novel (read his talk here), and also met with readers at the Bertrand Bookstore, including novelist Fernando Miguel Santos.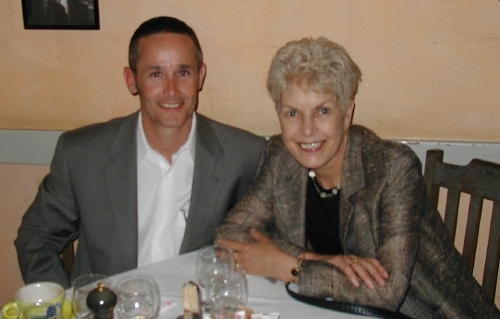 Steven with Ruth Rendell in London, 2002.


Book tours in 2007 and 2008 took Steven across the USA and to England, Norway, Hungary, Portugal, and Spain. Steven's Spanish publisher scored some great publicity for ROMA, including this window display in downtown Madrid.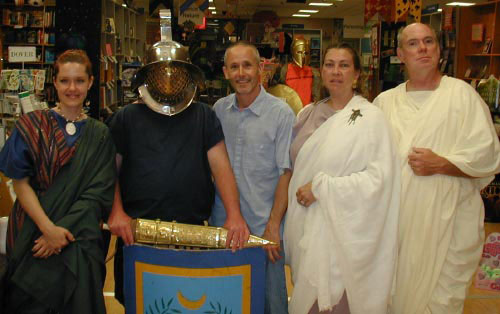 April 2007: Steven's ROMA signing at BookPeople in Austin was SRO — with Romans in attendance! These ancient world aficionados are from The Roman Way.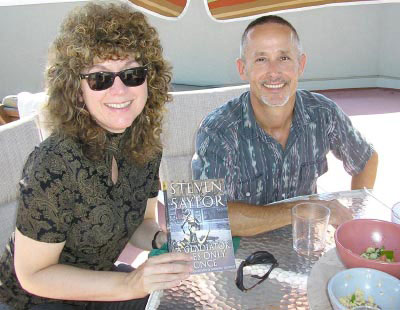 September 2006: Steven played host on his rooftop terrace to Caroline Lawrence,
author of the Roman Mysteries children's series (including
The Thieves of Ostia
.)
Lawrence lives in London, but came to Berkeley (her alma mater) while traveling
in the States.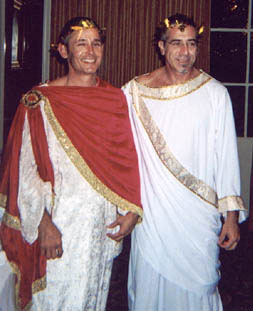 Halloween 2003: Steven (with Rick Solomon at right)
felt positively imperial when he reigned as Guest of Honor
at a gathering of Ancient Worlds enthusiasts in New Orleans.
There's no experience quite like signing books in front of an Egyptian
sphinx, as Steven discovered when he spoke at the University of
Pennsylvania Museum of Archaeology in Philadelphia in January 2003.

(photo by Rick Solomon)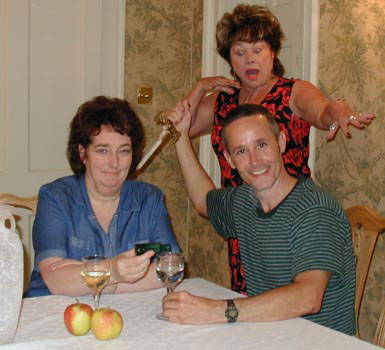 During his 2002 book tour of England, Steven was cordially welcomed by
fellow author Lindsey Davis at her lovely home in Greenwich, outside London.
Their mutual friend, author Deryn Lake, witnessed the historic meeting.

(photo by Rick Solomon)